Register Now
सुशिक्षित मराठी स्थळांसाठी फक्त सुंदरजोडी
Best & Trusted Marathi Matrimony Website in Pune
Find Your Sundar Jodidar With 4 Easy Steps
1

Registration

Join this Marathi matrimony website in Pune for free and connect with more people

2

Interest

Express your interest on this Marathi matrimony website in India according to your preferences for free

3

Choose your Membership Package

As the best Marathi matrimony website in Pune, we offer various membership plans with exciting benefits to choose from

4

Unlimited Chat and Contact Details

You can send unlimited messages to the people you like on this most trusted platform. To ensure absolute privacy, we disclose contact details to only paid members.
Our Marathi matrimony website serves as the best matrimonial portal designed specifically for individuals seeking marriage alliances within the Marathi community. With a focus on cultural compatibility and shared traditions, this Marathi matrimony website in Pune offers a convenient and efficient way for Marathi individuals and their families to search for suitable life partners. This platform provides a range of features to assist in the process, including detailed profiles, advanced search filters, and communication tools.
One of the key aspects of this leading Marathi matrimonial website in India is its emphasis on preserving the Marathi culture and traditions. The platform allows users to specify their preferred regional preferences, allowing them to connect with potential partners who share a common language, customs, and beliefs.
Our Marathi matrimony website offers around 54,000+ comprehensive and detailed profiles that provide valuable information about individuals seeking marriage. Users can create profiles that highlight their personal details, educational background, occupation, family background, and other preferences.
This comprehensive information allows individuals and families to make informed decisions when considering potential matches, ensuring compatibility in various aspects of life. By providing a space exclusively for the Marathi community, this website brings a sense of belonging and facilitates the formation of meaningful relationships rooted in shared values.
Sundar Jodi, the trusted Marathi matrimony website in Pune, provides advanced search filters that allow users to narrow down their preferences. Users can specify criteria such as age, height, education, occupation, and more to find matches that align with their requirements. By connecting individuals based on shared values and traditions, Sundar Jodi plays a significant role in bringing and making meaningful relationships within the Marathi community that lasts for a lifetime
7 Promises by our Marathi Matrimonial
Website before you take yours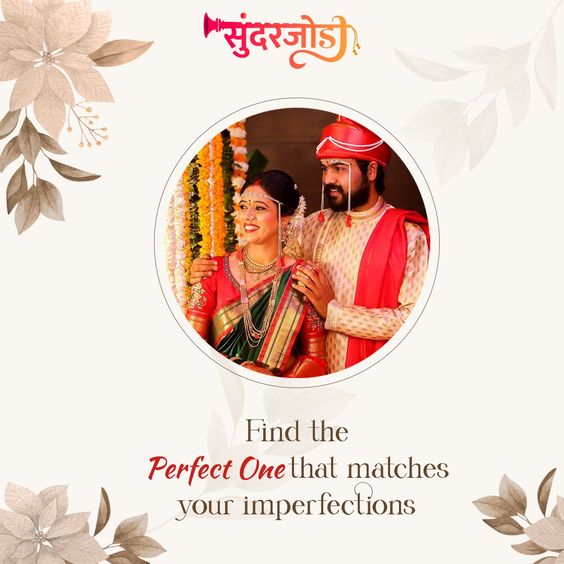 Success Stories
Presenting the family of the happy couples who found their sundar jodidar via this free matchmaking website in Maharashtra.
If your story was also directed by us, send your engagement or wedding photos and get featured on our hall of sundar stories.